Tip 1: Luxury Packaging is On Brand Like a Symbol
       You might be wondering how much does packaging even matter? It matters a lot. We often see small business owners with packaging not on brand. Take example with a luxury brand Tiffany & Co. The iconic blue packaging box of Tiffany & Co. is likely to be more recognizable than the classic tiffany engagement ring. They have turned their packaging into a vital part of their brand experience and created value around the packaging alone. Seeing a Tiffany's box under the Christmas tree is nearly as exciting as opening it on Christmas morning. Why? The Tiffany & Co. box is on brand. Always in the iconic Tiffany blue color, the simple and timeless logo runs across the top of the box, and inside for this particular piece there's a suede drawstring bag. Again in Tiffany blue with the logo. Really this packaging is a straightforward concept, a single color and a logo. But by using that simple packaging design with consistency Tiffany & Co. has built incredible brand recognition from their boxes alone.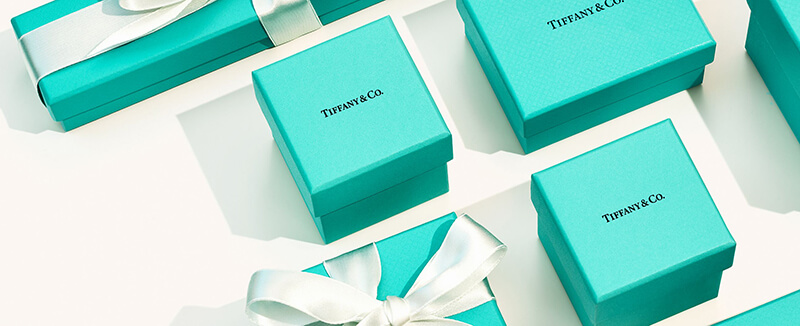 Tip 2: Make Sure Your Luxury Packaging is High-End
        I'm not only talking about the quality of the packaging but overall premium feelings. Take my favorite luxury brands Louis Vuitton, Ever since I was young I had a dream about owning a Louis Vuitton handbag in the classic monogram canvas print. I remember watching them on the glossy pages of my favorite fashion magazines and always thinking 'one day'. And finally when I one day came I realized that buying my first Louis Vuitton was about so much more than getting an expensive handbag. It was just an experience to create a luxury product or service that's coupled with the perfect luxury feelings. Louis Vuitton packaging feels luxurious. The bags and boxes are incredibly sturdy crafted from high-end papers and fibers. Products are boxed up in the brand's signature imperial saffron color boxes, accented with blue ribbons that read Louis Vuitton and gold foil stamping. Within the boxes, most items like handbags and small leather goods are protected inside of branded dust covers. Louis Vuitton also provides a miniature branded paper folio in the signature color that houses proof of purchase and documentation for the product. These elements all work together to make a very tactile and very high-end experience when purchasing a Louis Vuitton product. More than that, the packaging was specially designed to highlight the brand's history and heritage.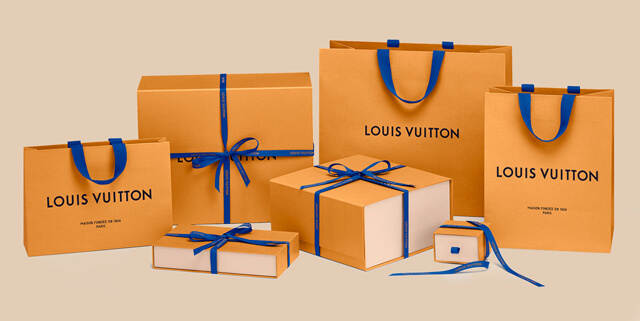 Now, as other business owners, you might be believing that you don't have much in common with big luxury brands like Louis Vuitton or Tiffany & Co. but you'd be wrong. As I've mentioned it's so important for creative brand business owners to market their business as luxury brands. You might in competing on price. Part of being a luxury brand is having a flawless luxury brand experience. And an important part of your brand experience has to be your packaging.
        The last thing you want to do is disappoint a client who is spending lots of money to work with you. I have in fact experienced this myself several times when hiring photographers and artists I've chosen someone who's more expensive because I want that luxury experience. But I've actually been pretty disappointed when the products like albums or digital files are delivered in mediocre packaging. It made me question the whole experience. And that's what your clients will be doing too. So, grab a peek at some luxury brands to find inspiration for your own packaging design.
Tip 3: Luxury Packaging is An Experience for Your Customers
        Purple Cow Seth Godin talks about the importance of being remarkable when it comes to your brand in his book. We often think of the word remarkable as meaning exceptional or extraordinary but Godin simply means creating something that's worthy of remark, meaning to get your audience talking. One of the best ways to achieve this is through your luxury packaging. Have you noticed how many custom packaging company online and how many of them make for luxury items? You can watch people on YouTube unbox luxury handbags, designer shoes, jewelry, electronics, and more it's kind of crazy when you think of it. Why would you watch someone else opening the packaging of a Birkin bag or an iPhone? It's because these brands have turned their packaging into an experience and not just an experience but a remarkable experience. If you want your clients telling all of their friends and family and even their Instagram or YouTube followers about your amazing luxury brand then it's probably time to review your packaging design.
        Now you know the luxury packaging design basics that brands like Tiffany & Co. and Louis Vuitton use to make customers fall in love not just with their jewelry or handbags but with their entire brand experiences but I'm sure you know that luxury branding is more than just boxes and bags. If you're ready to dive deeper grab my free Brand Blueprint, contact us to assist you create your own epic brand experience. It's Free! Want to know even more about building a luxury brand? Don't forget to check out our website on cmicpackaging.com.