A die is a metallic tool that is a very important part of the die-cut process. It helps enable the entire machine ensemble to cut our shapes and patterns in different sizes out of a piece of fabric. While cutting the material, there is excess material that is left behind. This is known as a matrix.
Each unique design or label comes with its own respective dimensions. There is a thick colored line drawn around the design, to showcase where the cuts would be made.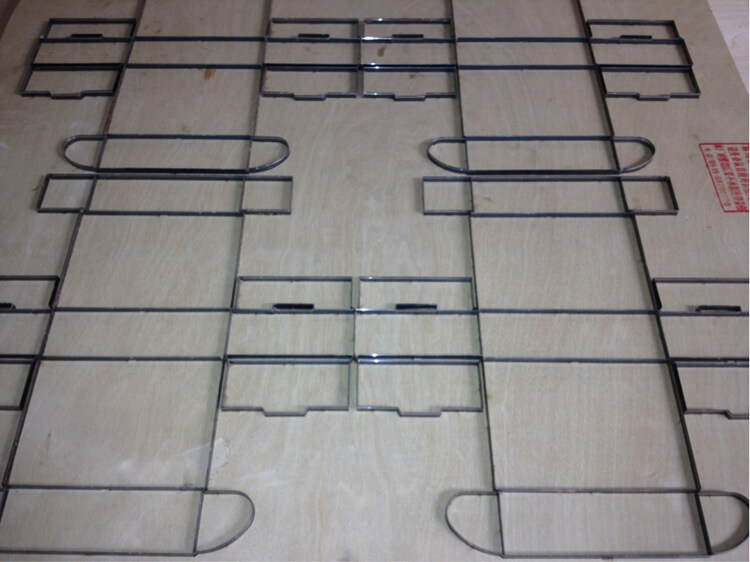 Metallic Tool for Die Cutting
Brief History of Die Cutting
The word die-cutting basically indicates "to cast" and has been believed to have derived from the Latin word "Dantum" that translates to "Given" or "Placed". 
Dies were first used in the 1300s to cast coins or stamps which were used daily. 500 years later, there was a shift in the use of these dies, with a wider variety of products being produced with the aid of the same method.  
Die became synonymous with "machine-created" and cut was synonyms with "cutting into customizable patterns". Putting the two words together, one got the term die-cutting, which people only began to use in 1800 when the soles of leather shoes were created using this method. 
Types of Die-Cutting Machines
There are 2 main types of die-cutting machines that are commonly used to conduct the process- Manual Die Cutting Machines and Digital Die Cutting Machines.
Manual Die-cutting machines have their dies run through the rollers of the equipment, which may be guided with the help of motors. The dies help give shape to the design that is to be cut on the requested fabric or material. 
On the other hand, we have Digital Die Cutting Machines that are more technologically advanced and run on software. Instead of a metal die like in Manual Die Cutting Machines. There is a sharp blade used, that does the trick in Digital Die Cutting Machines. The blade helps aid in cutting the shape out of the fabric. Different devices such as a laptop, phone, or tablet can be programmed to help aid in the use of this machine.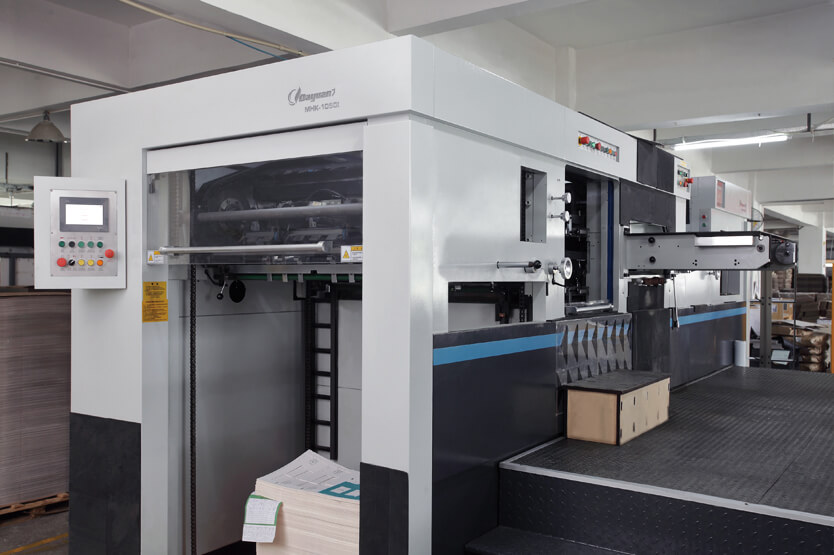 Automatic Die Cutting Process Machine in C MIC Packaging
Main types of Die-Cutting Processes
In this type of die-cutting, the fabric or material used is drawn out to a specific length. This type of cutting works best for elongated products or products that have a small girth. 
As the name suggests, coin-shaped holes are punched into the fabric with the help of pressure applied to the machine. These circular-shaped designs help give the packaging an elite finish. 
Broaching involves teeth like markings to be carved out of the material. Unfortunately, using a steel die to do this is not possible. 
In order to perform blanking, flat material must be acquired to conduct this type of die-cutting. Following this method, the material looks flatter than it originally was. The reason behind this occurrence is the fact that this material is clipped from the exterior edge. 
Forming is a type of die-cutting that is done over a curved surface. This method is usually used to create packing for cylindrical objects or simply just used for orders requiring a cylindrical package. 
Other types of Die-Cutting Processes
This method of die-cutting involves lifting systems and hydraulic presses to help create patterns on the fabric. This type of cutting is most commonly used for bigger products and low-volume projects. These Flatbed die presses work best on thicker materials such as fiber and felt.
Rotary and Semi-Rotary Die Cutting
Both of these types of die-cutting use a roller across flexible sheets of fabric aided by a machine so that the die that is attached to a magnetic cylinder makes cuts on the material, hence creating a design. The dies used can either be solid or flexible in nature.
The semi-rotatory die cutting method is quite famously used when it comes to creating customized labels as it is known to provide better and more complex cuts, gets it done faster also decreases the number of times the web needs to be run through the system. 
Die-cutting is a method that has been used for many centuries now. Though the purposes it has been used for have varied from time to time, the evolution it has undergone is quite intriguing. 
If you are currently looking to get your packaging for your business using a die-cutting method, click here: https://www.cmicpackaging.com/ to acquire the best solutions to your needs.